We make it east to buy a car with us!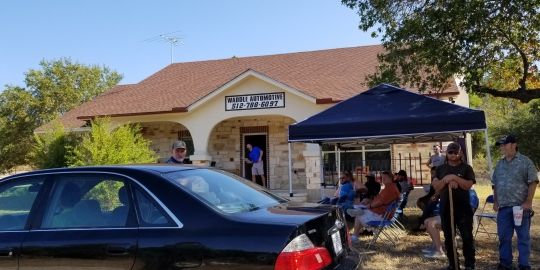 Anyone can buy and sell a car at the Auction
Auctions are not just for Dealers, individuals are welcome and encouraged to utilize our services.


Want to know how it works? Here are the easy steps for how to purchase a vehicle with Waddle Auctioneers.
Download the Waddle Auctioneers App. Looks like this -

Preview vehicles.

On our App.

In person during preview - Friday before the Auction - 9am - 7pm at 19701 Alfalfa Drive, Lago Vista, Tx 78645.

Register to Bid:

On-line via App or Website.

In person during preview or morning of auction. Gates open at 9am for registration.

Complete Buyer Terms & Conditions.

Bid during live auction.

In person - you will be given a bidder number during registration, simply raise your hand when you hear a number you are willing to pay for that vehicle. If you are outbid, our ringmen will help let you know what you need to bid to get back in.

Online - log in to our website and watch for the auction to go LIVE. You be be able to view the auction by live feed and hear what number the auctioneer is on. Simple click bid when he says a number you are willing to pay for that vehicle.

If you have the winning bid:

Check out process:

Must have Valid ID

Show proof of insurance

What to expect:

It takes 20—40 minutes

We will transfer the title and registration, and issue you temporary tags.

You will receive plates 2-3 weeks post purchase.

Once documents are completed and final payment is received, you will receive a gate pass, receipt and keys.

Person driving off lot must show license & gate pass
Buyer Terms & Conditions:
All bidders must register and provide proper ID. Proof of Valid insurance is required on motor vehicle purchases. Everything sells AS IS WHERE IS without warranty or guarantee, either express or implied. No merchandise shall be removed until the conclusion of the Auction and must be accompanied by a paid receipt. All vehicles are sold subject to TT&L in accordance with Texas DMV regulations. Titles will be transferred from Waddle Automotive to the appropriate buyer by the Texas Department of Transportation through the US Mail. Any salvage titled vehicles are subject to 8.25% sales tax in accordance to state regulation, and titles may be issued on-site. Buyers will be notified when their license plates arrived, and they must be signed for on-site. A 13% Buyers Premium will be added to the purchase price on all on-line bidders, and a 3% discount applies to all live bidders. 10% buyer's premium will be added to the purchase price of all sales live. We reserve all rights in our favor. (All rights reserved.)
Payment Options:
Phone - call number listed on invoice
In Person - Cash, Credit Card, or Money order.
Online - Wire Transfer
All payments need to be made by the 3pm on the Monday following the live auction.
All vehicles must be picked up no later than 1 week post auction.
Any vehicle not picked up by the Saturday following the auction are subject to a $5 per day late fee.
Full payment is due before removal of the vehicle.
Pick Up/Check Out Details:
- Live Auction Close - 2pm on Saturday of Auction
- Monday - 8am - 3pm
- Thursday - 10am - 2pm
- Friday - 10am - 2pm
- Saturday - 10am - 2pm
Online Buyers Premium - 13%
Live Buyers Premium - 10%
Document Processing Fee - $49
Government Fees. $112.50
(Includes: Title application, registration and government fee)
Additional Fees may be applicable and are subject to change.